The 18 Must-Read Tips to Masterfully Use Your Oil Paint Supplies
Finally know exactly what paint to buy, paint brushes, easel and palette you need!
The Ultimate Guide To Oil Painting Supplies
Regular price
Sale price
$0.00 USD
Unit price
per
Sale
Sold out
Share
View full details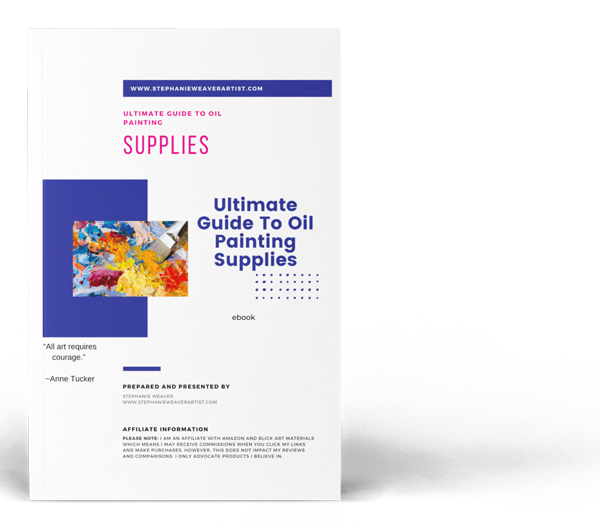 "The information in this book has helped me go from not knowing what to buy to being able to know not only what to buy but why I'm buying it!"   Katheryn L.
Discover the paint supplies you need and how to use them for how you paint or envision yourself painting! 
Stephanie Weaver has the answers to all of your questions in The Ultimate Guide to Oil Painting Supplies. This comprehensive guide includes information on the 4 key criteria for the best brand of oil paint, the 11 basic palette colors every painter should have on hand, and how to properly care for your brushes. The guide also features a quiz to help you determine which type of brush is best for your painting experience level, as well as a cheat sheet on mediums and their uses.
Whether you're a beginner or a seasoned artist, The Ultimate Guide to Oil Painting Supplies is exactly what every oil painter needs on their shelf.
In The Ultimate Guide To Oil Painting Supplies you'll learn:
Stages of Your Journey - Key
Oil Paints: Best Brands and Essential Colors
Paintbrush & Palette Knife: For Beginners and Advanced
Mediums: Medium Cheat Sheet
Brush Care: How to clean, does and don'ts.
Palette: What to consider before you buy.
Canvas or Panel: Perks of All The Types.
Easel: What Works and What to Avoid.
The Ultimate Guide To Oil Painting Supplies
Regular price
Sale price
$0.00 USD
Unit price
per
Sale
Sold out
Share
View full details